February 13, 2005
seems baby pages are all the rage these days!
mister AJ has a new friend for me, too! here's Ella's web page
the scary part is, it looks like daddy's influence is spreading. we'd hoped to try and keep it contained to the house, but it looks like some got out.
-syd
Posted by jferris at 03:09 PM | Comments (1)
my new cousin!
hey everybody, check out my new cousin, Dominick!
welcome to the world, Dominick! can't wait to meet ya in person!
-syd
Posted by jferris at 02:57 PM | Comments (1)
January 27, 2005
a wee bit o' the alphabet
so first, you'll have to excuse the audio file with no video...syd was taking a bath, and babbling up a storm, so i pulled out the video camera to use for the audio recording. didn't want to post naked baby video, so you just get the extracted audio. anyway...of course, as soon as i bring in the camera, she goes off-air. this clip was captured in the middle of a couple minutes of "come on, say something" types of conversation. she sings along with a little alphabet refrigerator toy from leap frog, but we didn't really expect her to know what "say your alphabet" meant...
anyway, click here to hear her genius.
-daddy

Posted by jferris at 12:11 AM | Comments (122)
January 22, 2005
a collection of shots i never got around to posting last year...
now that i've got the comment spam slowed down a bit, i can actually get around to posting some of the shots from last year...







Posted by jferris at 04:43 PM | Comments (0)
hey, it's only 3 months...
i've upgraded the blog system, added some comment moderation features to try to cut down on the comment spam...
here's a quick photo to illustrate why parents of small children don't wear a lot of white...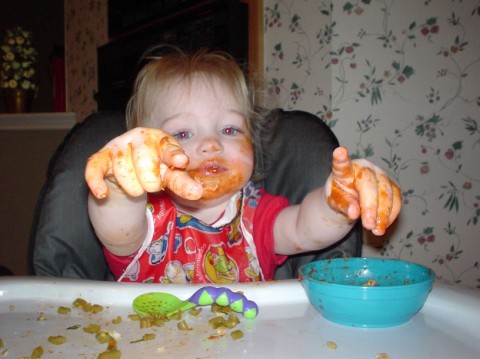 -j
Posted by jferris at 12:31 AM | Comments (0)
October 17, 2004
peeeeeeekaboo!
check out my chameleon-like ability to virtually disappear in any room...you can't even see me! here's a hint: look closer at the blinds.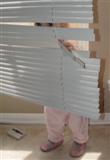 -sydney
Posted by jferris at 12:35 PM | Comments (0)
August 31, 2004
oh, no no no, this is not good...
so we get home tonight, and the nanny tells us we've got a problem. naturally, that's my signal to run for the video camera. i have to say, even with the innate knowledge that we could have nothing less than a truly brilliant child, this threw me off my game a bit.
sydney is only 3 days past the one year mark (and yes, i know, i'll post the obligatory cake photos soon), and what you're about to see would terrify any parent of a one year old....
click the photo to play the 2.8MB Windows Media file...

-daddy
Posted by jferris at 11:46 PM | Comments (0)
August 01, 2004
upcoming birthday...
note: this link is for grandma's convenience only.
-j
Posted by jferris at 10:47 PM | Comments (0)
July 14, 2004
monkey problems
so there i was, just minding my own business, digging through the closet, when i find this big neon monkey! i pulled him out, and he starts makin' all this racket...daddy went to get the camera, of course.
(the video is about five minutes long, but it's only about 9 mb)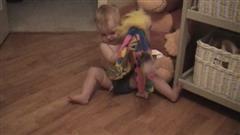 -sydney
Posted by sydney at 11:24 PM | Comments (0)
June 26, 2004
baptized...
we had Sydney baptized today...fortunately, the catholic church is a little more flexible these days when they check on the sacraments of initiation completed by the baptee's parents, because i'm only hittin' one for three so far.
here's a picture of all of us before going inside: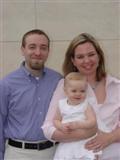 ...and here we are mid-bap:

-Daddy

Posted by jferris at 01:54 AM | Comments (0)