January 27, 2005
a wee bit o' the alphabet
so first, you'll have to excuse the audio file with no video...syd was taking a bath, and babbling up a storm, so i pulled out the video camera to use for the audio recording. didn't want to post naked baby video, so you just get the extracted audio. anyway...of course, as soon as i bring in the camera, she goes off-air. this clip was captured in the middle of a couple minutes of "come on, say something" types of conversation. she sings along with a little alphabet refrigerator toy from leap frog, but we didn't really expect her to know what "say your alphabet" meant...
anyway, click here to hear her genius.
-daddy

Posted by jferris at 12:11 AM | Comments (122)
January 22, 2005
a collection of shots i never got around to posting last year...
now that i've got the comment spam slowed down a bit, i can actually get around to posting some of the shots from last year...







Posted by jferris at 04:43 PM | Comments (0)
hey, it's only 3 months...
i've upgraded the blog system, added some comment moderation features to try to cut down on the comment spam...
here's a quick photo to illustrate why parents of small children don't wear a lot of white...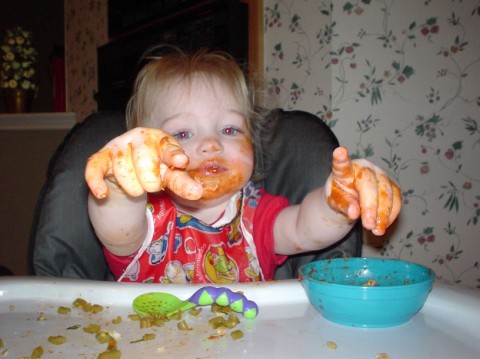 -j
Posted by jferris at 12:31 AM | Comments (0)
August 31, 2004
oh, no no no, this is not good...
so we get home tonight, and the nanny tells us we've got a problem. naturally, that's my signal to run for the video camera. i have to say, even with the innate knowledge that we could have nothing less than a truly brilliant child, this threw me off my game a bit.
sydney is only 3 days past the one year mark (and yes, i know, i'll post the obligatory cake photos soon), and what you're about to see would terrify any parent of a one year old....
click the photo to play the 2.8MB Windows Media file...

-daddy
Posted by jferris at 11:46 PM | Comments (0)
August 01, 2004
upcoming birthday...
note: this link is for grandma's convenience only.
-j
Posted by jferris at 10:47 PM | Comments (0)
June 26, 2004
baptized...
we had Sydney baptized today...fortunately, the catholic church is a little more flexible these days when they check on the sacraments of initiation completed by the baptee's parents, because i'm only hittin' one for three so far.
here's a picture of all of us before going inside: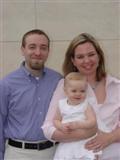 ...and here we are mid-bap:

-Daddy

Posted by jferris at 01:54 AM | Comments (0)
June 04, 2004
i am sydney's first black eye...
rule one of baby fight club? there is no baby fight club.


so, as you can see, sydney got her first black eye today. no, it wasn't really from baby fight club...she's been sneaking in some walking when no one is looking, and she crashed into a bit that sticks out on her highchair. (guess who plans to write the manufacturer?)
today was the first day we really caught her taking steps by herself, where we weren't trying to convince her to stand and goad her into taking the steps...she went to the end of the couch, where she usually drops to a crawl, and just walked away instead...
fortunately, i was fiddlin' with the camera at the time, trying to get this picture of her eye...i'd set it to movie record mode, and while i was looking at the controls, trying to figure out how to stop recording, i noticed she'd moved away from the couch, but was still on her feet...five or six solid steps this time, and when she stops, she stands there for a minute before dropping to a crawl, much different than the above instance, when you see her stumble from me to amy with almost no control whatsoever.
anyway, too late to digitize the video for tonight, but it'll be part of the first installment of "Sydney - The Motion Picture." i've captured and digitized over 11 hours of footage already. about 10.5 hours are in the category of "most boring video footage in the world to anybody but Sydney's parents," but maybe we'll throw some music tracks on there, add a bit of CG animation, see what we can do in post-production...
-Daddy
Posted by jferris at 12:53 AM | Comments (0)
May 07, 2004
off she goes...
hey there....daddy here...so today, sydney is just over 8 months old, and we caught this on tape...


special thanks to uncle matt, for handling the camera work in this evening's production....it might not look all that impressive on tape but a) many 8-month-olds aren't even standing, or so i like to assume b) it looked much better in real-life c) it is quite a bit more meaningful when it is your own child.
-daddy
Posted by jferris at 12:15 AM | Comments (0)
April 23, 2004
who here doesn't like babies?
Just a quick side note from The Daddy...I'll be walking in the March of Dimes WalkAmerica on May 8, 2004, and this year, they've enabled online sponsoring (now that's my kind of charity). My page is at http://www.walkamerica.org/jeff_ferris. The March of Dimes mission is to improve the health of babies by preventing birth defects and infant mortality. So it's a good cause, unless you're opposed to healthy babies...
-Jeff
Posted by jferris at 08:28 AM | Comments (0)
January 26, 2004
some fresh pictures...
Hey there! Sorry, I haven't helped Sydney post any photos in a while...She's trying to fall asleep now, but on her way to bed, she asked me if I could publish a few fresh pictures for her fans...
Here's a couple pictures of Sydney playing "Crazy Pretzel Girl," and showing off her flexibility by chewing on her own feet...



And here's a picture of Sydney playing "Crazy Monkey Girl," doing her best to both hold on to AND imitate the stuffed monkey on one of her Gymini's.


-J
Posted by jferris at 09:36 PM | Comments (0)
January 24, 2004
sydney types!
hey, all...Daddy here, sorry for the lack of posts...again...but tonight, had to take a few seconds to post this...
as you know, this is sydney's blog...but she can't really type all that well, so i usually transcribe for her. but tonight, she grabbed ahold of the keyboard...after she figured out she can't fit the whole thing in her mouth, here's what she had to say:
tg8ggnm yhjy./ '8ui
she also hit the windows start key alot, but i think i'll be able to break her of that habit before it causes any permanent developmental issues...
-J
Posted by jferris at 01:23 AM | Comments (0)
December 12, 2003
alright, i'm sorry...
hey, all...this is daddy posting, not sydney. i wanted to apologize for sydney not having posted any new pictures for a couple of weeks. we've been keeping her very busy lately, what with the making her grow like a weed, and all the sleeping and eating that involves, so she's had to cut back on some of the extracurricular activities like maintaining her webpage...
anyway, here's a super-cute picture to try to make up for some of the lost time.


Posted by jferris at 08:41 PM | Comments (0)
November 01, 2003
now i don't feel so bad...
this is daddy posting...
i just took a look at anderson's web page (there's a link on my main page)...there's only four posts for october on his, too.
so for those of you askin' for more frequent posts....just wait 'til you have your own baby. ;)
-Daddy
Posted by jferris at 09:55 PM | Comments (0)
August 30, 2003
from daddy...
testing new publishing engine...
Posted by jferris at 11:06 PM | Comments (2)