« October 2004 | Main | February 2005 »
January 27, 2005
a wee bit o' the alphabet
so first, you'll have to excuse the audio file with no video...syd was taking a bath, and babbling up a storm, so i pulled out the video camera to use for the audio recording. didn't want to post naked baby video, so you just get the extracted audio. anyway...of course, as soon as i bring in the camera, she goes off-air. this clip was captured in the middle of a couple minutes of "come on, say something" types of conversation. she sings along with a little alphabet refrigerator toy from leap frog, but we didn't really expect her to know what "say your alphabet" meant...
anyway, click here to hear her genius.
-daddy

Posted by jferris at 12:11 AM | Comments (122)
January 22, 2005
a collection of shots i never got around to posting last year...
now that i've got the comment spam slowed down a bit, i can actually get around to posting some of the shots from last year...







Posted by jferris at 04:43 PM | Comments (0)
hey, it's only 3 months...
i've upgraded the blog system, added some comment moderation features to try to cut down on the comment spam...
here's a quick photo to illustrate why parents of small children don't wear a lot of white...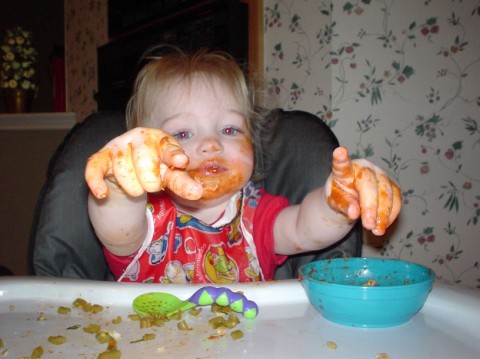 -j
Posted by jferris at 12:31 AM | Comments (0)