« i am sydney's first black eye... | Main | monkey problems »
June 26, 2004
baptized...
we had Sydney baptized today...fortunately, the catholic church is a little more flexible these days when they check on the sacraments of initiation completed by the baptee's parents, because i'm only hittin' one for three so far.
here's a picture of all of us before going inside: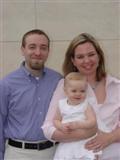 ...and here we are mid-bap:

-Daddy

Posted by jferris at June 26, 2004 01:54 AM
Comments
Congratulations! Thanks for the update and the pictures!
Posted by: Becky at June 30, 2004 10:50 PM